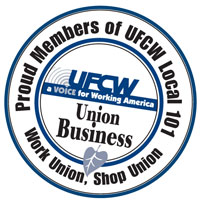 Winning Directions America's First Union Political Consulting Firm
Winning Directions, America's most honored political national communications fi rm in the fi rst decade of the 21st Century, has become the nation's first and only union shop among political consulting fi rms in the nation.
"We have worked on behalf of national, regional and local labor organizations for more than twenty years," said WD President Tony Fazio. "Our long-standing commitment to the labor movement and social justice for working people took another step forward this month as Winning Directions formally affi liated with Local 101 of the United Food and Commercial Workers Union."
Winning Directions has worked with UFCW locals to craft member communications over the past decade. "Our staff decided that UFCW was an excellent fi t for our organization and we are all proud to be the union's newest members," said Fazio,
"2010 provides a great opportunity to advance the issues important to our brothers and sisters in organized labor," concluded Fazio. "Our status as the fi rst and only union shop among American political consulting companies, will give Winning Directions a unique perspective on how to help working people achieve their political goals this year."
Call Winning Directions at 650.875.4000.