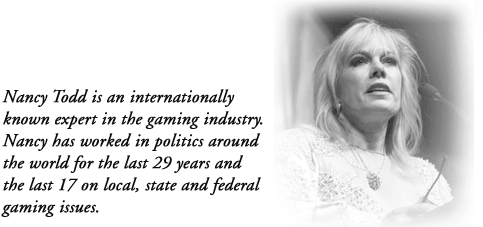 She has worked with the industry as it has evolved and was one of the first people to recognize the Internet as the new frontier and the future of gambling.
When Nancy first tackled the topic of Internet gambling in the early 1990's, she predicted the industry's enormous potential, as well as the attention of various regulatory agencies, conventional gambling companies and anti-gambling groups. She was correct in her assessment of the industry several years ago and continues to be one of the leading voices on online gaming.
Nancy authors a monthly column for Casino Journal entitled "The Politics of Gaming."
In addition, Nancy is a political consultant and president of Nancy Todd, Inc., an international strategic consulting firm based in Las Vegas, Nevada. Todd cut her political teeth in Louisiana where she attended LSU law school and volunteered in political campaigns. Since 1979, Todd has been a consultant to over l96 campaigns in 42 states and six countries, with a winning record of 98 percent.
Nancy Todd, Inc. has worked with candidates and projects both nationally and internationally and has received several national awards for creativity in political advertising. In 1995, Todd completed a successful hostile takeover of a rural electric cooperative in Louisiana, the first such takeover in the country.
A member of the board of directors of the International Association of Political Consultants and Chairman of the American Association of Political Consultants, Nancy was recognized in 1993 by Campaigns & Elections magazine as one of the 74 women who are changing the face of American politics. Her articles and commentary have appeared nationally in newspapers and professional publications.
She is a frequent speaker both nationally and internationally for governments, heads of state, key leaders in emerging democracies and major universities including Harvard, the John F. Kennedy School of Government, George Washington University, Georgetown University and Vanderbilt University.
She has recently been asked to be on a "Dream Team" of American based consultants to travel to the Pacific Rim.
Nancy Todd, Inc. specializes in controversial issues with special emphasis on promoting integrity and responsibility among all involved parties. Her success rate for assisting clients deemed "Davids" to defeat "Goliaths" is legendary.